September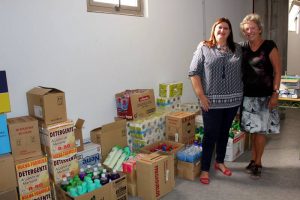 The local community of Santa Cruz received from SOS La Palma a donation for cleaning supplies and hygiene products so that the social workers can hand them out to the families in need.
"SOS La Palma" has been founded by foreign citizens who live in La Palma and who are trying to reduce the need of needy people – in this case buying products for them. At the moment they have 35 members, mainly from Germany, but also from Bulgaria, Denmark and the United Kingdom.
The social board member from Santa Cruz, Gazmira Rodríguez, thanks the president of SOS La Palma, Annette Ibarra, for the permanent help for the people in need – an example of generosity and responsibility.
Gazmira Rodríguez remebers that SOS La Palma was founded in the worst time of the crisis but that they still continue with their help for which they are very grateful.